Zymo Interactive Featured on Fox11 Green Bay Wisconsin Local News
Original article on fox11online.com: http://fox11online.com/news/local/green-bay/app-store-rakes-in-billions-during-holiday-season



When the local Fox11 Green Bay Wisconsin news station ran a segment on Mobile App Development and App Store sales during the holiday season, they turned to Zymo Interactive for insight into the mobile app development world. With more than 20 downloadable apps currently available in Apple's app store (and countless more app projects under our belts), we over at Zymo know a thing or two about marketing and development within the app store itself. Apple's app store customers spent over $1.1 billion on mobile apps within a two week holiday period, and $144 million on apps and in-app purchases on January 1st alone.



Zymo President Adam Larson knows that this huge market and number of downloadable apps does not make getting visible in the app store easy, especially for businesses with limited budgets. There are over 10 million apps in the app store at any given time, which means that, regardless of size or brand presence, being and staying visible in the App Store is no easy feat. App Store Optimization (often called 'ASO') requires keyword research, an understanding of how the target audience searches for the app, and regular upkeep of reviews and the app itself to be successful. When Fox11 of Green Bay asked Adam to expand on what goes into an app launch, he stated:


"For a developer that's developing a mobile app or a company that's looking to launch, that's not really a good thing because you're one of a million, or even one of 10 million," Larson said. "It does take some money and it takes some actual blood, sweat, and tears to actually get your app to be successful."


It's no surprise that proper optimization and regular use of keywords in the App title and description result in, on average, 10-11% more downloads, but the App Store's system gives way to a snowball effect of optimizations. That is, the use of highly searched keywords in the title lead to more downloads, which generally leads to more app reviews. More app reviews (positive ones, anyway!) will result in Apple ranking the app even higher than the competition that might have few to no reviews.


Related Content: Become a Mobile Developer in Wisconsin

The type of marketplace expertise and support needed for App Store success is what sets Zymo Interactive apart from other mobile development companies. Our expert development team understands the importance of on-going development team support and a marketing plan that blends well with a company or brand's current strategy and digital assets.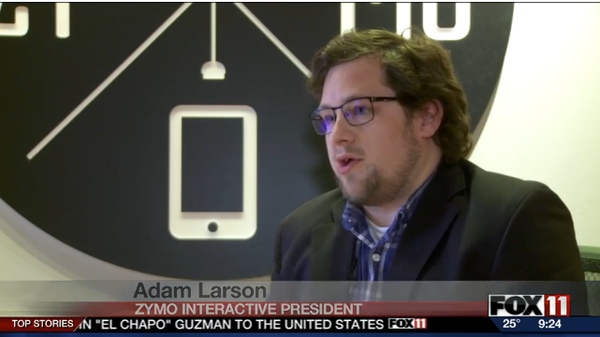 "We get individuals that come in that are looking to start a company, or we get a big business that comes in that's looking to either build a customer facing application or one that maybe helps improve their business operation," said Adam Larson, ZYMO Interactive President.



Regardless of a business's motive to want to build an app, hiring an experienced expert mobile app developer to support your app, from conception to App store launch, is integral to its success. Ready to start a mobile app development project? Contact us today, or get in touch on our social channels below and say hello!