Should You Allow Ads in Your Mobile Apps?
It's a well-documented fact that ads can be really freaking annoying. Especially with streaming services and online media, we have all experienced the frustration that comes with having your experience interrupted by a required advertisement you can't skip, a pop-up ad that won't go away, or a notification that leaves you no choice other than to say "yes." If you haven't experienced this, we encourage you to step out from the rock you have been living under and read The Psychology That Explains Why We Hate Being Advertised To.
However, perhaps unsurprisingly, the answer to "Should You Allow Ads in Your Mobile Apps?" is actually - yes. Allowing ads in your mobile apps is, according to clickz.com, "a better solution to capture targeted consumers' attention and encourage them to interact without interruption."
Mobile apps are location driven and provide a highly targeted, immersive experience for the target audience. However, the key phrase in that statement is "without interruption." Ads that can't be closed easily or which automatically redirect users from your app are a nuisance to the target audience and a detriment to a quality user experience (UX).
So how can marketers capitalize on the obvious benefits of allowing ads in their mobile apps, without frustrating the user into closing the app altogether? They start by understanding the challenges that are inherent to both mobile app development and a successful ad campaign.
User Experience in Mobile Apps
Mobile app ads are specifically designed to be displayed in the context of the app. However, the fact of the matter is that if your ad diminishes the overall user experience of the app, it can turn users off from ever using the app again. Ads that redirect the user to a landing page outside of the app or that inhibit the user's journey through your app can frustrate and annoy the user.
On top of being a general nuisance to the user, redirect ads can infect user devices with malware or sketchy software that all but guarantees the user never opens your app again. Mobile app developers are encouraged to utilize products like the Media Trust's Mobile Scanner, which will automatically scan for and detect ad redirects on a daily basis. According to the experts at Wired: "Third-party ad servers that... don't vet ad submissions proper". Make sure to analyze and carefully select the ads that are shown in your app, and visit all destination URLs before accepting ad submissions.
A bad User Experience can be damaging to your download rates and to your brand reputation. If you do decide to monetize your mobile apps and show ads to your users, keep them in the footer, side area, or upper menu bar area to ensure that your user's flow is never, ever interrupted. Avoid popups or full-screen ads whenever possible.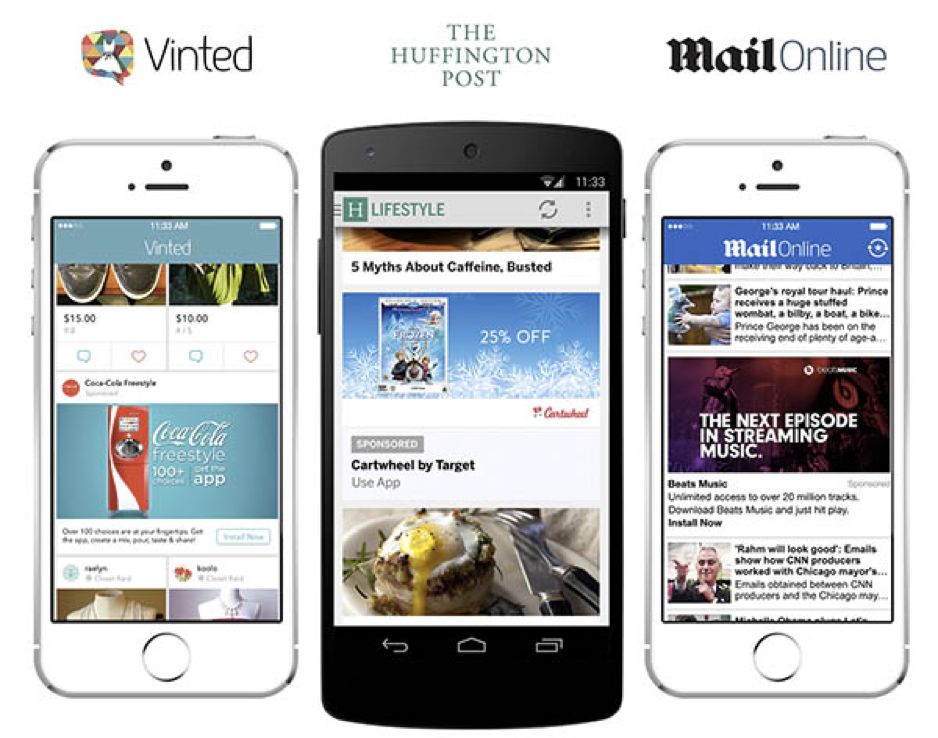 Paid vs Free vs Freemium Apps
It's no surprise that most users are unwilling to pay for an app, which leaves developers struggling to ways to make their app profitable. While all developers want the best mobile experience for their users, developers themselves have to find a way to keep the lights on. The success of how you price your mobile app depends on the category, the perceived value of your app, and how users expect to interact with your app. The psychology of cost and how your audience feels towards your brand can have a profound impact on the success of your mobile app.
Paid apps have the obvious benefit of immediate revenue. It's been proven, however, that the likelihood of download is considerably lower if your app costs users money to download. Fewer downloads generally mean fewer reviews, and both metrics affect how your app is found in the app store. All of these factors can affect the success of your app.
To circumvent this issue, many app developers choose the "freemium" route. Freemium models provide users a free app experience of the app's basic functions but require payment to access premium features rather than charging upfront to download the app. Freemium apps are a great way to get users attached to your app and demonstrate the value you can provide, but this model can lead to a frustrating User Experience down the road. Inevitably, the user will realize they will have to continue to make purchases during their app experience and will likely cease using the app altogether.
App developers can circumnavigate the paid vs freemium dilemma while still monetizing their apps simply by allowing mobile app ads. Doing so allows the user to fully utilize the free app and click on the ads that are (hopefully) accurately targeted to them, and add value to the overall user experience.
Learn more about pricing models for mobile apps by reading Which Pricing Model is Best for Your Mobile App
Geo-Location Targeting in Ads
Any marketer will tell you that highly focused ads, aimed at a specific target audience, will yield higher sales than a broadly focused advertising campaign. The great thing about mobile apps is that most are able to pull from direct demographic and geo-location data. This is great news for marketers looking to utilize in-app ads because it allows marketers to target specific demographics and avoid wasting money on advertising to a broad target audience.
You'll need permission to use the user's exact location, but you can still target your ads to their location to the nearest metropolitan area. If the goal is an excellent User Experience for your audience, you'll want to make sure the ads you're displaying are targeted to their geolocation and preferences.
Click-Through Rates & Ad Format in Mobile App Ads
The whole point of advertising in a mobile app is to entice users to click the ad and take an action. Luckily, according to Medialets, click-through rates for ads within apps is nearly 35% higher than mobile web ads. However, studies have shown that users perceive banner ads to be untrustworthy and are therefore less likely to click on them.
According to AppFlood, the ad format that provides high CTR (click-through rate) and the highest earnings per 100,000 impressions is Interstitial Ads. Interstitial ads are full-screen ads displayed at natural transition points throughout the app, such as load screens or level checkpoints. This technically does not interrupt the user's journey at all, since ads are shown only at natural transition points.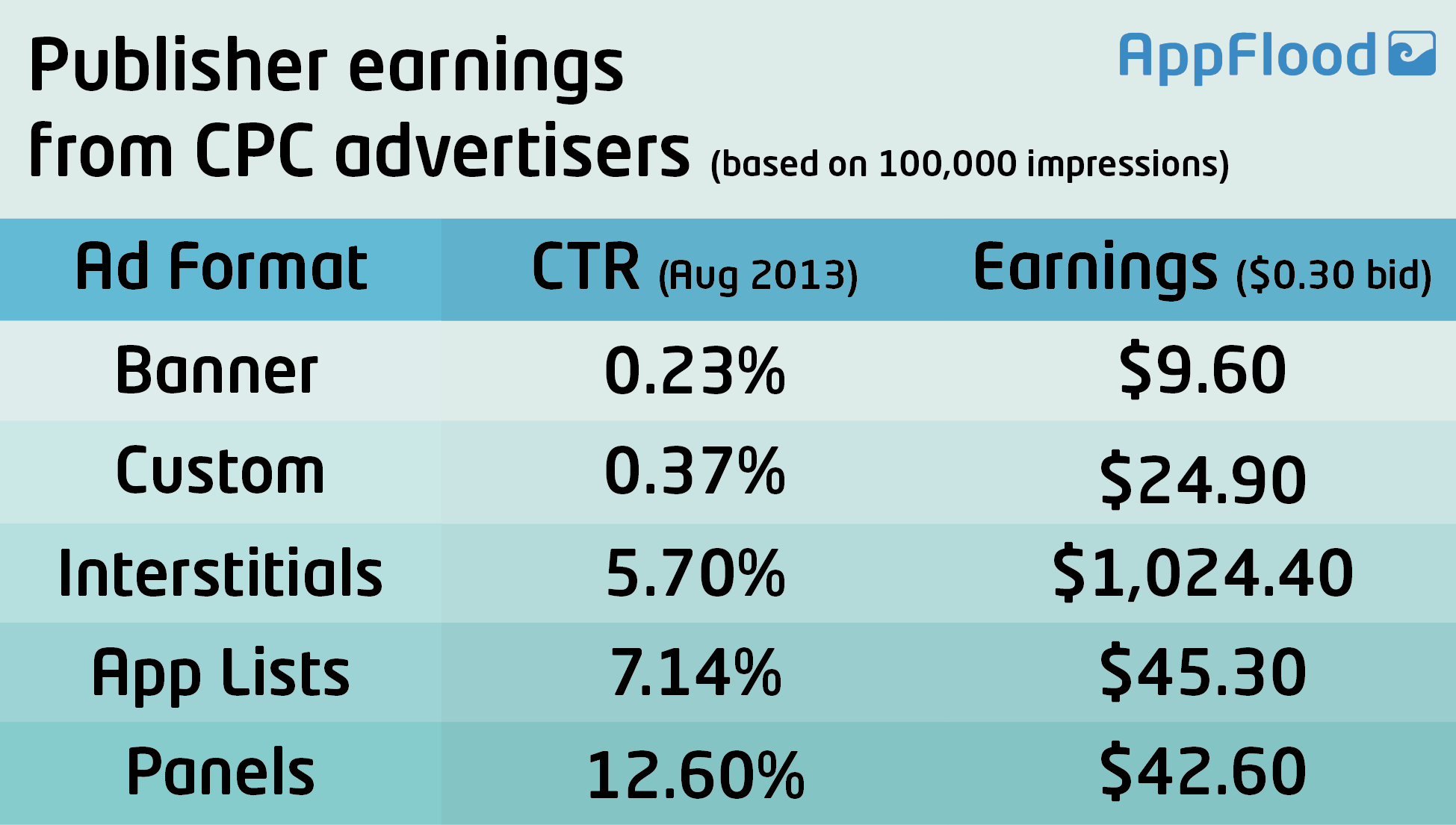 So what is the optimal format for mobile app ads?
The short answer to that question is, it depends. Whether a video ad, native advertising, banner ad, or a combination of the dozens of other ad formats that exist is ultimately determined by the type of mobile app and the target audience being advertised to.
Whether you are a marketer or an app developer, it's probably safe to say that, if done correctly, In-App Ads can allow you to monetize your mobile app without sacrificing a great User Experience. Regardless of format or audience, mobile ads have a far higher CTR (and therefore greater chance of resulting in a sale) than mobile web advertising. However, it's critical to the success of your mobile app to never forget the importance of excellent UX, because frustrated users don't click ads, they delete apps.