Perfect Mobile App Push Notification Strategies
Push Notifications: Hit or (Badly) Miss
Have you ever received a push notification that annoyed you, was poorly-timed, or wasn't personalized to you at all? Chances are high that everyone with a smartphone (so, everyone.) has experienced this in one way or another. Smartphones are meant to be, well, smart...as in they allow you to complete a variety of tasks throughout your day, making your life easier. However, all too often, apps tend to make things even more difficult for us or annoy us until we turn push notifications off completely. Obviously, if you're an app developer or business owner, not being able to reach your audience is a problem, especially when it comes to monetizing your mobile apps.
That's why it's critical to ensure that your hard work promoting your mobile app and getting users to download your app is not wasted on untargeted or unwanted push notifications. Let's review some of the challenges that accompany mobile apps, and how proper push notifications can support higher retention rates and re-engage app audiences.
Retention Rates
It's not surprising that mobile app engagement rates after initial download are extremely low. In fact, retention rates for mobile apps start at 21% on day one of download, 7.5% on day 30, and just 1.89% on day 90. If retention rates under 2% don't scare you, they should. What's a brand to do?
Using well-timed push notifications can increase retention rates to over 25%, simply by sending the right message at the right time.
The Power of the Push
Push notifications allow you to reach your audience from outside your app and can help encourage users to open your app if they haven't in a while. Push notifications are sent directly to the user's device, so results are nearly instant, and the engagement rates for push notifications surpass the performance of any other marketing channel. While engagement rates vary depending on your industry, a well-timed, targeted push notification can have up to a 40% engagement rate, compared to a 15-20% engagement rate for email campaigns.
It's important to be smart about what and how often you push out to your audience. Too many notifications or notifications that are ineffective and not compelling to the user will result in your user ignoring the notification, getting annoyed with your app, or blocking notifications from your app altogether, hindering the success of any future re-engagement.
Additionally, make sure that you are segmenting your users carefully so that they only receive push notifications that are relevant to their habits and preferences. Sending a push that isn't relevant to your user will reflect poorly on your engagement rates.
Personalizing your push notifications as much as possible will ensure that your users are excited to re-engage with your app. Using data-segmentation to learn about your audience and serve them messages that are relevant to them is the best way to re-engage dormant users and get them excited to return to your app.
Some apps using well-placed push notifications to re-engage include:
Netflix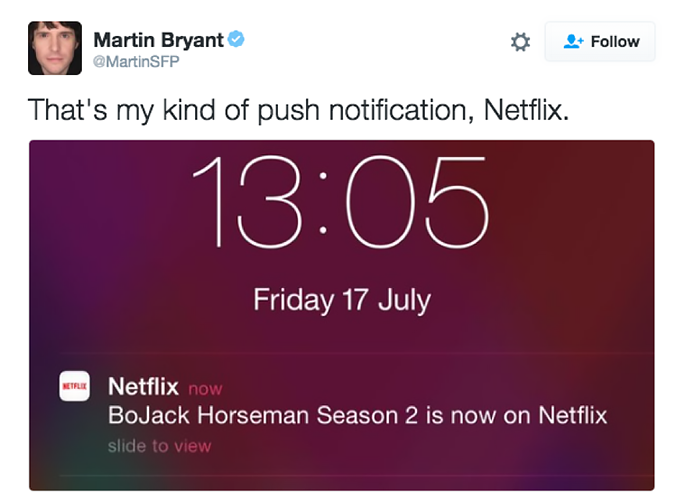 Netflix does an amazing job of tailoring push notifications to the user's preferences and watch history. And why wouldn't they? By announcing new releases or updates around shows and movies that you already watch, Netflix is sure to offer you only what's relevant to you and nothing that isn't. We don't know about you, but getting a push notification about our favorite binge-worthy shows right after dinner time (6 - 7pm) gives us the perfect reason to open the Netflix app on a device.
Podcast (Apple)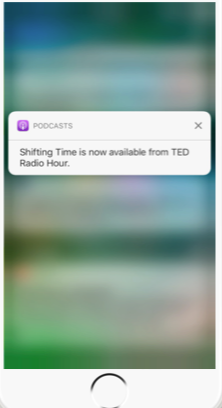 Apple is pretty much the expert in knowing the perfect time to push notifications to re-engage its users and get them to use the app, and the Podcast app (native to Apple) is no different. Podcast analyzes past listening behavior and lets the user know when creators of podcasts they have listened to before release new podcast titles. Podcast re-engages users that might otherwise not have opened the app at all by alerting users to new media they will very likely find interesting or exciting.
Tips for Push Notifications
Set a Limit
Harassing your audience with a large number of push notifications that are not important is the #1 way to make them turn notifications from you off (probably) forever. Set a hard limit to push notifications that arent trigger by an action (for example, 5 banking notifications caused by 5 manual transfers is acceptable. 5 notifications about a lower APR is not), and avoid send more than 2 or 3 notifications a day, max.
Go to Sleep
Do you read every push notification you've received when you wake up in the morning? Likely not. If your brand becomes part of the overnight noise, you push notification will likely be ineffective. Schedule push notifications to go out when your target audience is awake in their local time zone.
Short - n -Sweet
Try to keep your push notifications succinct and concise; around 10 words is ideal. It definitely will not hurt to make those 10 words humorous, witty, punny, or otherwise entertaining.
Duplicate Notifications Inside Your App
It's too easy to clear all push notifications. This means your audience is likely to miss your push, so making it easy to find your message again within the app is the best way to ensure your messages don't go unseen. It's common to find past notifications in a "My Account", "Messages", or "Reminders" area in the menu bar.
Bonus: Use Personalized Email Campaigns to Drive Even Higher Retention Rates
After well-timed push notifications that are based on the user's previous actions and/or preferences, personalized email campaigns have the potential for some of the highest engagement rates possible. Email campaigns are an excellent way to reach out to your audience if your push notifications are ineffective (or if they have previously turned push notifications off). Email campaigns have, on average, a 20%+ open rate, and while this number does vary a bit based on your industry, email campaigns result in some of the highest engagement rates in marketing.
The content of your email should be both attention-grabbing and carefully personalized to the user's previous behaviors. A great example for re-engaging app users is the "Come Back, We Miss You" email. This email type is meant to remind the user of all of the awesome things your app can provide and give them a bit of FOMO on those awesome things if they don't return to your app.
Timing your personalized emails with updates or changes to your app can strengthen re-engagement rates by giving your users a reason to come back. Give your audience a preview of the latest features of your app, showcase improvements and updates, and invite your users to come back to check out the newest changes. If possible, include a discount or promotion to incentivize the user to reopen your app even more.
Brands and Mobile App Developers alike can use these tips and best practices to send carefully-crafted, targeted messages to their audiences and encourage them to keep coming back to the app. Do you have a push notification strategy that has worked well for your company? Tell us on social!