Organic Strategies That Boost User Acquisition
User Acquisition is pretty darn hard, and it's only getting more difficult as competition in the app store increases and technology continues to develop at lightning speeds. In 2017 alone, there were 197 billion mobile app downloads from the app stores (including both the Apple App Store and the Google Play Store). App competition is fiercer than ever, making user acquisition extremely difficult for app advertisers. In 2018, it seems the only way to promote your app and improve user acquisition rates is to apply a large budget to advertising and hope for the best. How can app owners continue to add new users to their apps, while also maintaining high retention rates, without large ad budgets?
User Retention is Still Critical
A study from InMobi states that app marketers are 2X more likely to say acquiring new users is their highest priority marketing goal than they are to say that retaining their current users is the highest priority marketing goal. But when app devs and owners only focus on getting new users onboard, without taking care of and providing value to their current audience base, the results are rarely successful. Additionally, the number of app installs doesn't always translate into lifetime users, so by focusing predominantly on acquisition, app brands may be missing out on a large opportunity to re-engage, and thus retain, their current user base.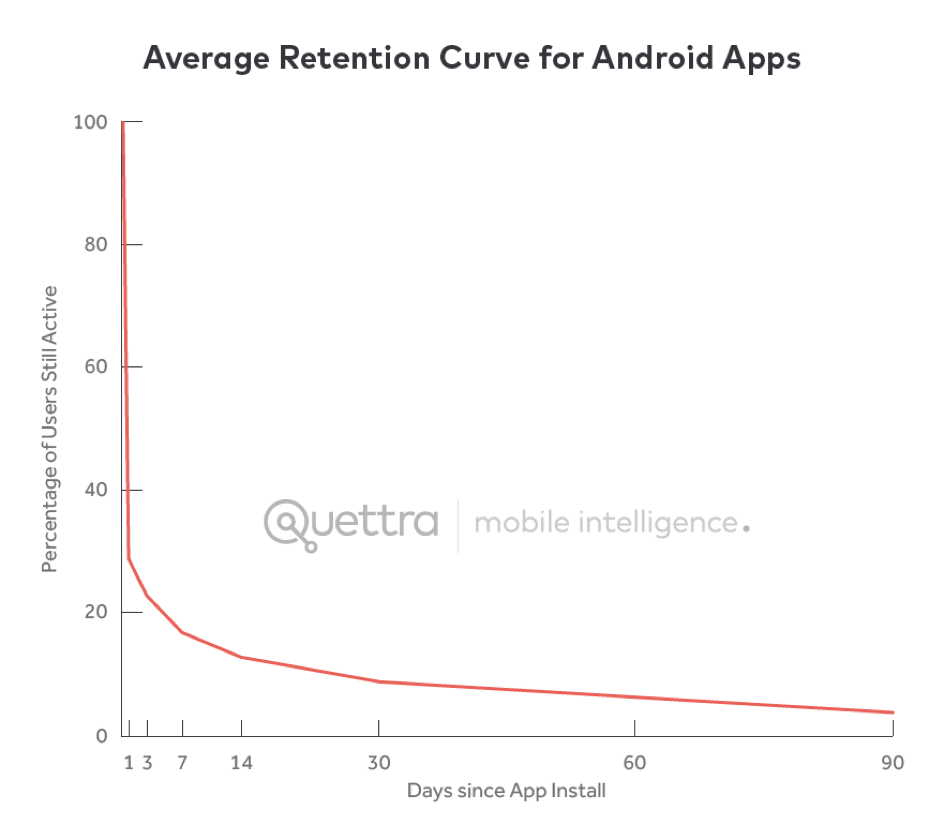 Focusing on retention and re-engagement of your current user base is just as critical as acquiring new users, especially given that two-thirds of all app users will stop using an app within 30 days of downloading it to their devices. Implementing engagement strategies, like personalized email campaigns and strategic push notification strategies, can encourage your audience to reopen your app and positively influencer your overall Engagement Rates. While engagement rates vary depending on your industry, a well-timed, targeted push notification can have up to a 40% engagement rate, compared to a still-notable 15-20% engagement rate for email campaigns.
Re-engaging with the users in your current audience base is just as important as acquiring new users, and it is often more cost-effective in the long run to re-engage with existing users than it is to acquire new users.
Organic Means Free (Kind of)
Organic channels refer to those that do not require a monetary advertising investment, and an organic app user is a person that was not prompted by any paid campaign to engage with your app or brand. Organic channels are beneficial to app owners in gaining users for a variety of reasons. Due to the "free" nature of organic acquisition, this type of user is likely to have the highest Lifetime Customer Value (LCV), and the value of this type of user is obvious. Additionally, benefits of organic visibility are more long-term, with organic visibility gains lasting longer than paid advertising models that can end with the toggle of a button.
While organic sources do not require a budget to work, you should consider the time and resources that are dedicated to maintaining a strong organic presence for your app. While these are technically "free" in the fact that they do not require an ad budget, when you factor in the time and effort that goes into an organic strategy, it's not exactly free. Usually, the payoff from organic UA is worth the time and resources put into organic strategies.
App Store Optimization (or ASO)
SensorTower found that browsing the Apple app store accounts for 15% of all app downloads in 2018. This increase is credited to Apple's enhanced app store search update that was released with iOS 11. Apps that have a strong ASO strategy and are visible to the user during the browsing process are at a significant advantage compared to apps that are not as visible.
App store optimization involves optimizing app storefront pages to include popular keywords, descriptions, screenshots of the app itself, and strong calls to action. To leverage ASO tactics to increase user acquisition from the app stores, you should include core keywords in the App Name and the App Description, as well as include support app content like screenshots and featured images to catch your ideal user's eye.
Choosing the right title for your app is critical to starting off on the right foot for ASO. Perform some keyword research (there are plenty of tools, including Adwords keyword planner, AppTweak, App Store Rankings, Sensor Tower, or SearchMan.) to get a good sense of search volume and competition around your core keywords. For example, a weather app called "iWeather" is going to do a lot better in the app store than "iStorm" for searches that contain the word 'weather'.
Try to get into the mindset of your ideal user. How will the search for your app? What words will they likely use? Try to picture yourself in their shoes. Better yet, try to imagine your parents searching for your app. What keywords would they use? This type of thought exercise can help you use the keywords that are going to have the highest return. Remember, the way that you think users search is often different from the way they actually do, so it's important to think about the most rudimentary keywords and search phrases.
Just like using high volume keywords in your app name is important to ASO, your app's description is critical to its App Store success. Use your keywords from your Title Research to write a clear and concise description of the app. Read the descriptions of your competitors to get a general idea of what to include. Keep the description clear, use short, concise sentences, and sound excited! Use your best marketing lines to encourage the user that this app is amazing, easy to use, well supported, very helpful, or whatever adjective you want used to describe your app. Descriptions are also extremely important to Apple's strict App Store approval process, as your app could get rejected if its description is not clear, concise, and truthful.
By taking advantage of organic optimization tactics like ASO, app brands can gain visibility for their apps online and increase user acquisition rates from the app stores.
Learn more about App Store Optimization (ASO) here.
Organic Social Media
Promoting your app on social media channels can increase the brand awareness of your mobile app and increase acquisition rates. Though social media algorithms continue to change, social media still remains a powerful channels for creating brand awareness and driving higher user acquisition rates.
Engaging in helpful conversations and in related groups is an excellent way to improve social media presence. You can become a bit of a thought leader in your industry by answering questions and engaging with users on top social media channels like Facebook and Linkedin, or secondary social media channels such as Quora or Reddit.
While 2018 social media channel environments, such as Facebook, have developed into a "Pay to Play" model that often requires a steep advertising budget, maintaining a strong, branded organic social media presence is important when it comes to increasing awareness for your mobile app.
Cross-Promotion with Other Apps
Cross-promotion networks are generally free for app publishers and involve partnering with other apps to promote each other to their user audiences. Usually, there is no cost allocated by either app, and each partner can enjoy the benefits of reaching new audiences. Especially with the current cost of acquiring new app users, saving money on advertising costs through cross-promotion of apps can be a cost-effective and budget-friendly way to acquire new app users.
Do you have other organic strategies that have helped your app acquire new users? We'd love to hear them! Share your thought on our social channels.