Did you know that despite over 2 million apps in the app store, a study from Clear Bridge Mobile found that more than half of mobile app developers generated little to no revenue from their mobile apps in 2017?
App developers are just like any business - they need revenue in order to keep their lights on and continue to deliver the products they offer. Even though income is necessary for app devs to continue to support their businesses, showing ads with your app can disrupt the User Experience and make users annoyed with the app, or worse, with your brand. How can app developers monetize their apps without sacrificing strong User Experience?
Advertising and The User Experience
UX plays a critical role in branding and brand appearance, and a strong User Experience is important for the overall success of the app. In the short run, apps with better User Experiences attract more downloads from the app stores (user acquisition). In the long run, strong UX keeps users engaged and happy (user retention).
A strong user experience is one that does not disrupt the user's journey in any way. This means that any type of advertising that interrupts this experience can be detrimental. The most common in-app advertising options, like pop-ups, banners, or interstitial ads, are now considered unhelpful and many times downright annoying. Of all the ad varieties, consumers found "Online Pop-Up Ads" to be the most unfavorable ad type.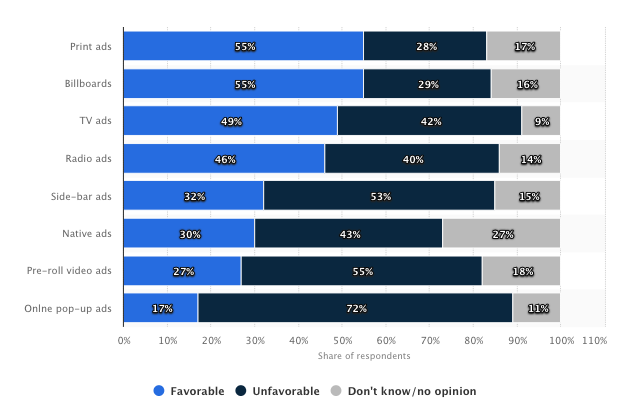 However, when implemented correctly, in-app ads can be successful in monetizing mobile apps without sacrificing the user's experience. Understanding the different types of in-app ads can help you determine which type will be the least disruptive to your user's app experience and least likely to have negative effects on your mobile users.
Types of In-App Ads
Choosing the right ad type and monetization strategy is key to your app's success. In-App ad types include Interstitial ads, which are ads that generally cover the full interface of the device. This full-screen pop-up grabs the user's attention and forces them to look at the ad and take an action if they want to click into the ad or continue to use the app. Interstitial ads are excellent for CPM-based advertising goals. Another type is banner ads, which occupy a small amount of space on a user's device within the app and generally stay on the screen while the user interacts with the ad. Banner ads frequently fall victim to "ad blindness", which occurs when users stop paying attention to ads altogether. Video ads are ads that play before, during, or after a video on the web. These ads can range in length from 5 seconds to 120+ seconds. Video advertising generally performs well compared to other in-app ad types. Lastly, native ads are ads that provide an integrated ad experience that blurs the line between the app's design and an advertisement. Native ads in apps often have similar designs and layouts to the app itself. Native ads have a comparatively strong User Experience since the ads appear to be an intentional component of the app. Just like native app design, creating a 'native' experience can alleviate the invasive feeling that ads can add to the mobile user experience.
Each of these ad types provides a unique benefit to advertisers, but even the most targeted mobile ads can still disrupt a user's app experience, causing them to feel annoyed and frustrated with your app.
Monetizing without Ads
Despite a variety of ad types, many app developers and publishers still prefer not to show ads. While a combination of strategies is generally the most successful, there are a few non-ad options for the mobile developers who prefer to keep their apps clutter free.
"Freemium" Model
The freemium model allows the user to download and use the basic functions of a mobile app for free, but requires users to pay for access to premium features. This model allows app developers and publishers to attract a large number of users and allows users to try out an app before they commit to making a purchase.
With a freemium model, people who are unfamiliar with your app can try it out and easily upgrade to premium features. This low-risk situation makes a user more likely to download the app, rather than turn to a competitor. The freemium monetization model works best for games, educational apps, and apps that offer advanced functionality and data visualization. The average conversion rate for freemium model apps remains comparatively low, between 0.5% - 2%.
Paid Download
Charging your users to download your app is the most straightforward method of monetizing your app. However, charging users to download can cause a serious decrease in the total number of downloads an app receives. While users are less likely to download an app that costs money up front, a paid app can be successful if users feel the purchase is worth the value of what they are getting from the app.
If your app delivers in ways that other apps do not, this strategy can result in a loyal customer base that's willing to make an investment. Apps in niche industries like health and wellness, fitness, and productivity are more likely to have high download rates for paid strategies. If your app is truly the best option in the app store, you can successfully implement a paid download monetization strategy that does not sacrifice the user's experience with disruptive ads.
In-App Purchases
In-App Purchases involve the 'sale' of virtual goods or services to be used within an app. In-app purchases are similar to the freemium model in that they allow the user to experience the basic functions of the mobile app but require a purchase to unlock premium features, credits, or access levels.
Extremely popular with game apps, in-app purchase models work best with free apps. Many games allow users to earn a small number of credits through app use, or give users the option to simply buy credits to continue to use the app or the app's advanced features. This type of monetization strategy does not interrupt the user's experience and encourages your app user's to make a purchase if they want to continue to get value from your app.
Sponsorship
Sponsorship involved a partnership with other brands and advertisers and requires users to complete certain in-app actions. Generally, sponsors are other brands in similar niches and industries that want to encourage your app's users to also engage with their brands as well. Apps with a robust user base will have the most success in implementing Sponsorship as a method of monetization. Additionally, the sponsorship-based monetization strategy provides the added benefit of encouragement for the user to continue to use your app.
RunKeeper is an excellent example of monetizing apps through sponsorship. RunKeeper users get exclusive rewards from health and fitness brands if they complete pre-determined in-app actions. This keeps users engaged with the RunKeeper app while also monetizing the app experience.
Do you know other ways of monetizing mobile apps? Give us a shout on our social media platforms below!