10 Best Practices for Using Mobile Pop-ups
Mobile pop-ups can be a great way to ensure that your audience receives your brand message or takes an action before leaving your site. The average pop-up conversion rate hovers right around 3% and optimized and high-performing pop-ups can have a 7-9% conversion rate. If you are driving traffic from paid media sources (or paying a resource to help you drive traffic), even a 3% conversion rate can have a big impact on your bottom line.
But with the recent changes to the way search engines, mainly Google, treat pop-ups, the high conversion rate may not be worth the decrease in your online visibility and incoming traffic. How can designers create pop-ups that convert, while still maintaining a strong overall User Experience?
What are some of the best practices for using pop-ups in your mobile apps and on mobile-friendly websites?
Best practices for using pop-ups on mobile include ensuring your pop-ups have a designated, clear purpose, making sure that the pop-up is branded and designed well, using succinct and short messaging with singular calls to action, asking for minimum contact information (email only), avoiding pop-ups on the first page of the mobile experience, following Google's quality policies for mobile pop-ups, making sure exiting the pop-up is clear and easy, ensuring frequency caps are in place to limit the number of times a user sees pop-up and segmenting your audience to tailor your messaging.
1. Pop-ups with Purpose
This should go without saying, but it's pretty important that your pop-ups have a clear purpose and aren't just added to your user's mobile experience as an afterthought. Tie your popups to a campaign, a landing page, your newsletter,, etc; whatever you decide to use, make sure that your mobile pop-ups have a specific, clear purpose.
2. Branded Design
This should be a no-brainer, but obviously, make sure that your popup designs are branded and match the overall look and feel of your brand and branded website. There's nothing worse than seeing a great pop-up that has the standard MailChimp border or it doesn't match the brand at all. Every single visible aspect of your website needs to be directly attached to your current brand, and your pop-ups are no different.

Don't be afraid to add a bit of personality to your pop-ups, either. If we've seen one pop-up, we've seen them all, so doing something differently, using witty language (brand-appropriate, of course), or incorporating an eye-catching design element can really help your pop-up stand out and delight your audience rather than make their eyes glaze over.
3. Use Succinct Messaging
Keep it short, sweet, and to the point when it comes to popup content. Since you're likely optimizing for a mobile experience, succinct messaging that gets right to the point and offers a clear explanation of what you're asking for is much more likely to result in a higher conversion. Something as simple as "join our mailing list!" will likely perform better than a detailed explanation of your newsletter and your business. Keep messaging as short as possible and shoot for 100 words or less.
Which of the popups below do you think has a strong conversion rate?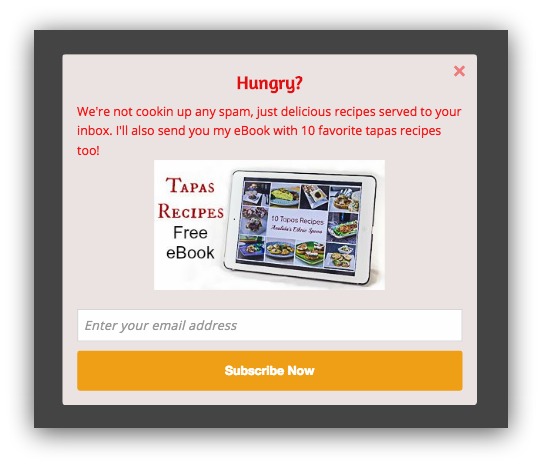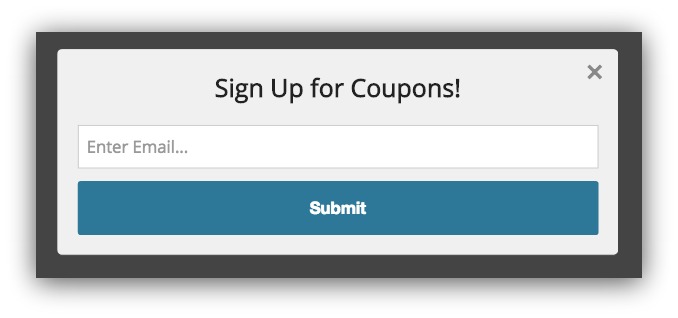 Turns out, the bottom pop-up, the one with extremely short messaging and a 'no-frill' approach performed 30% better than the popup with more information. Why? It's a no-brainer for the user and doesn't interrupt their User Flow. Keep your messaging short and to the point when creating pop-ups for mobile.
4. Singular Calls to Action
Tell your user to do a thing. A single thing. "Sign up for 10% off", "Join our Mailing List for Coupons", "Join the Growing Number of Businesses that Think Zymo is Awesome", etc are all calls to action that leave no room for confusion or uncertainty. This ties in well with "Use Succinct Messaging"; make sure your audience knows exactly why what you're asking for is being factored into their User Experience.
5. Ask for Minimal Contact Information
Resounding the need for succinct, singular messaging here - the more information you ask for, the less likely a user will give you the information that you seek. Don't ask for your users' name, zip code, gender, or anything else other than an email address in your popup.
5.5. Don't Ask Users to Create An Account
This is a 5.5 because it's relevant to both mobile and desktop. Asking users to register up front before they can view products or make a purchase is a huge barrier to entry and conversion. Do not ask users to create an account before they can interact with your brand or complete a transaction. The chances are high that they will not create an account, and you'll lose a user that you might have otherwise gained as a customer if you had allowed them to convert as a guest or asked for their contact info at a different point.
6. Avoid Pop-ups on the First Page
Pop-ups as soon as your user lands on your page and/or that prevent them from moving off of your home page are seen as extremely spammy, by both the user and search engines. A user that lands on your homepage might be interacting with you for the very first time - let them tell you what they want to see before you bombard them with popups.
You can add a 1 - 2-minute delay to your popup, or you can set it for specific, deeper-level landing pages. If you choose the specific landing page route, you can tailor your messaging to that landing page.
7. Follow Google's Policies for Mobile Pop-Ups
In 2016, Google announced mobile-first indexing. This means that Google has made changes to the ways that its bots crawl and index the website they've landed on, taking into consideration the fact that most Googlers are on their mobile devices, not a desktop. The mobile version of a website is the primary version that gets indexed.
Because Google sees mobile pop-ups as disruptive to the overall UX, Google now penalizes any type of website function that inhibits a mobile-friendly experience. The types of pop-ups it has deemed punishable include:
interstitial pop-ups that cover the entire screen upon entering the website and that require users to "X" out in order see the actual website;
pop-ups that cover the entire screen upon entering the website but that require users to know that scrolling past them is the way to bypass the pop-up and see the main content (which they often do not know, and exit the site)
any pop-up that hides the content on the page behind it.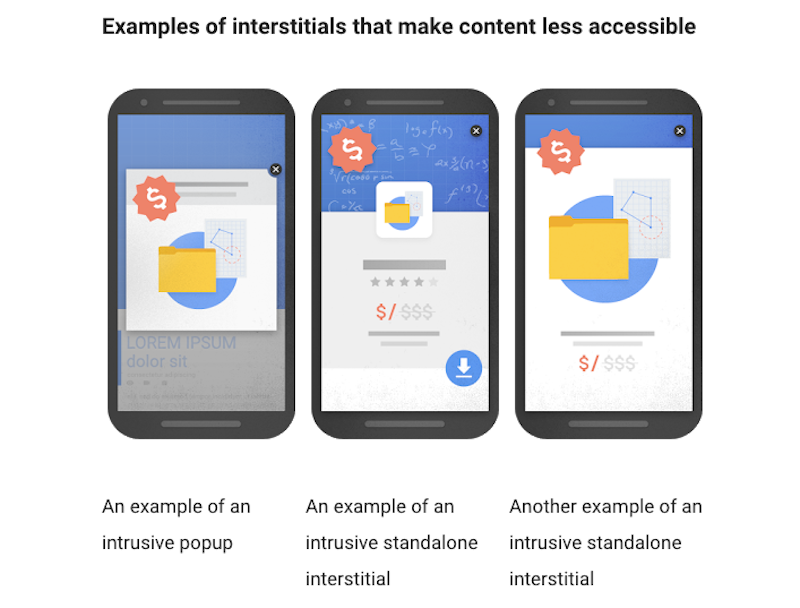 It's a good idea to take Google's policies for pop-ups into consideration since a large portion of your visits is likely to come from Google at some point.
8. Make Exiting Your Pop-up Visible and Easy
Don't trap your mobile users! Another of Google's policies was focused on the user's ability to "escape" the pop-up. Design your mobile pop-up to be easy to exit, with clear indicators as to how to make the pop-up go away.
9. Set Frequency Caps on Pop-ups
A frequency cap will ensure that your visitors aren't seeing your mobile pop-up every single time they click onto a new page or revisit your website within a certain period of time. You've worked hard to drive your audience to your website, and you've likely (hopefully) gone through the lengthy design process to make sure everything looks perfect on a mobile device, so don't spam them every single time they land on your site or visit a new page. Set a Frequency cap that makes sense for your business - definitely no more than once per day, perhaps even no more than once in 10 or even 30 days.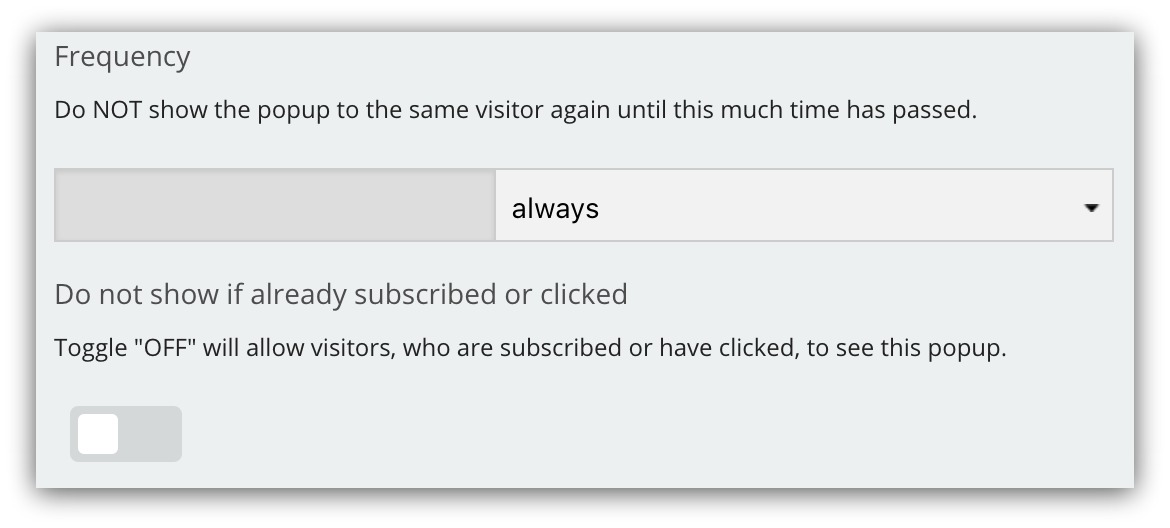 10. Segment Your Audience to Tailor Your Messaging
It's very unlikely that your audience all fits into the exact same category of user, with the exact same preferences and value needs. If you segment your audience by their demographics, preferences, and past usage data, you can send them a specific, targeted pop-up. Customize your messaging and pop-up to the activity of the user, using Google Analytics and advanced segmentation (common on the more popular pop-up software, such as MailChimp.). If a user finds you from a social media channel, use verbiage that speaks to that action. If you're e-commerce-based, you can segment even further. For example, if a user visits the women's shoe page of your mobile store, serving them a popup to join the mailing list for women's shoes would be a great, relevant message. Lastly, mobile users are likely to thank you for short text, quick info input.
Mobile pop-ups can still exist in 2018 but are most successful (and NOT penalized by Google) when they are strategic, non-invasive, and don't interrupt the overall User Experience of your mobile app or mobile site.