Mobile App Security Measures for Developers: Protect What You Build
Mobile App Security is More Important Than Ever

Mobile app downloads continue to rise, with over 2 million apps available in each apps store at any given time. Consumers rely heavily on the various apps found on their mobile devices, using apps to perform every day to day task, from checking into flights to online banking, from sharing photo albums to tracking health information. Apps have continued to expand and transform to better suit our daily needs, but one expectation of mobile apps remains the same - security. Businesses with apps are expected to always put customer information security at the forefront of mobile app development, so protecting that information is vital


Know the Value of Your App and the Information You Collect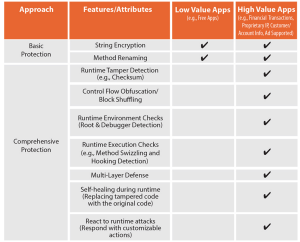 A deep understanding of the type of information you collect from your audience can give you insight as to how secure your mobile apps need to be. Basic email collection or username storage requires fairly light security measures, while eCommerce payments, financial data, and heath care information requires much more complex security measures.



Consider the potential financial consequences of an insecure app for your business. If your app processes sensitive information such as financial transactions, credit card authorizations or info, or other personal credentials, you need to calculate the potential loss of revenue that could result from hacking or fraud. In addition to security costs, collateral damage can also include costly penalties for not complying with security regulations. Lastly, crisis and reputation management are a costly expense necessary to restore positive brand image and reputation amongst consumers. The takeaway? Investing in high levels of security for your apps is much more cost effective than paying to clean up possible security issues in the future.


Flexibility and Mobility in App Security

As our technology continues to advance and improve, so must the security features that keep our information safe. Unlike PC development, advances in mobile development occur at a record-breaking pace. When hiring a mobile development partner to implement your mobile strategy, make sure to partner with a company with expertise in security, functionality, and innovation in keeping up with the pace of mobile app development. Cross-platform security and security features that can flexibly grow and advance with advances in technology will ensure that your mobile security strategy stays current and up to date.


Plan for Performance Side Effects

On mobile devices especially, memory space and battery usage are a precious commodity. Any security measure will almost definitely cause additional memory needs that can slow down performance and hinder runtimes. It is important to weigh the speed and runtime slowdowns that occur with high security measures against the benefits high-level security measures provide to your users. Choosing a security protection plan that offers adjustable performance-security-balance and allows developers to optimize code for speed can help ensure that your mobile apps remain fast, functional, and most importantly, secure.


Related Content:  5 Mobile App Trends for 2016
Follow IBM's 4 Pillars of Application Security Risk Management

SecurityIntellignce.com, IBM's "Analysis and Insight for Information Security Professionals", outlines 4 pillars of mobile app security management to help you have the best security risk management strategy possible. Your mobile app security strategy should include each of the 4 pillars outlined below.


1. Test application code for security vulnerabilities.

Always always always test your mobile application code! Careful analysis and testing of your mobile app code can help you determine vulnerabilities within your app code where potential attacks could occur. A 2014 OWASP wiki page outlines the 10 major security breakpoints or weaknesses in mobile app code, including insecure data storage, code injection, and broken encryptions. They are:





There are many paid services that can examine your mobile app source code and look for security vulnerabilities where potential hackers could enter. Careful scanning of your app code and an expertise in common mobile app break points can help ensure that your app is fully secure before release.


2. Test completed applications for security vulnerabilities and malware.

Ongoing testing of live applications should be implemented into your mobile app strategy. Regular, consistent testing of completed applications will ensure that your apps are currently up to date on security measures and will be for the foreseeable future.


3. Test the back-end for new vulnerabilities surfaced by mobile applications.

Back-End testing is also important for apps that have added databases and checkpoints from the backend. Back end vulnerability testing can be performed with IBM Security AppScan Standard, which allows for penetration testing of the back-end with applications on a device emulator web application or even on the specific mobile device itself.


4. Harden applications to keep them from potential tampering.

The key security difference between mobile apps and other software applications businesses use is a mobile app's home - the device itself. It is easy to control and monitor the security of software and even web applications monitored from inside a company, but mobile apps are nested directly in the mobile device. Installing hardening tactics, such as self-protect features, self-repair capabilities, and double-layer security and alert features can help ensure that even when the app is out of reach on a customer's device, the app remains secure and information is protected.



There are plenty of resources out there to help you ensure that your mobile apps are secure and your audience's information is safe, but these are a few of our favorites:



Mobile App Security Infographic: Autosend.io

Mobile App Development - 5 Worst Security Dangers - InformationWeek.com

Penetration Testing for iPhone and iPad Apps - Mcafee.com



Mobile app security is a critical, if not the most important, step in creating a mobile app to represent your brand or business. It's important to include regular security updates and features in your mobile strategy. Do you know of other security measures that can be taken to secure mobile apps? We'd love to hear your voice on any of our social channels below, using the hashtag #ZymoAppChat!