How To Become a Mobile App Developer in Wisconsin

It's a great time to be a mobile developer, especially in the Wisconsin and Midwest area, where costs and competition are low, innovation is high, and local pride is strong. Development professionals are in high demand for commercial businesses in Wisconsin, especially those with extra skill sets and experience. At Zymo, we know how important it is to keep Wisconsin's best mobile developers local. So how do you land a position as a mobile developer in Wisconsin?


Teach Yourself

This option is the least expensive and arguably the most difficult to accomplish when learning mobile development. Both Apple and Android provide developer tools for app development, and there are countless resources to teach yourself each coding language or skill (Read: Learn to Code with Zymo). To learn and develop iOS apps, you can register as an apple developer ($99) and access programming tools directly from Apple.

You will also need a Mac system to develop iOS mobile apps. To learn Android mobile apps, you'll need a computer that runs Windows, iOS, or Linux. You'll need to learn Java, a programming language, and download Android programming tools (free).



If you go this route to learn how to develop mobile apps in Wisconsin, keep in mind that saying you have these skills won't cut it - employers will want to see some of the apps you've created and the work you've done. Build up a portfolio with a handful of apps (even mock ones!) before applying for positions as a mobile developer, and showcase them on BeHance or a similar portfolio site for online viewing.


Get Certified in Mobile Development

Many tech schools and mobile development-specific institutions offer certifications for mobile development tools and training. While there is no certification preferred as an industry standard, some employees and companies may require some type of certification on the subject. Most certifications include programming and software development education, and taking a course or two can be a great resume builder if you're self-taught.



The MDI Certified Developer (MDICD) certification is a general mobile developer certification offered at the Mobile Development Institute (MDI). In addition to the MDICD, the CompTIA Secure Mobile App Developer Certification is a security-specific certification offered by CompTIA and viaForensics. Lastly, the Sun Certified Mobile Application Developer (SCMAD) is a programming certificate for the Java 2 Platform.


Get a Degree

Consider a degree in in programming or software development if you're preparing to make mobile development a life long career. Typical degrees include computer science, software engineering, or multi-media. The best degrees for mobile app dev will cover a broad range of programming languages and platforms.



There are many excellent University of Wisconsin and tech school locations that offer software development degrees, including local colleges and tech schools such as UWGB and NWTC.



According to one industry source, "In 2010, the revenue for consumer mobile apps was at $5.2 billion. Meanwhile, the projected revenue for 2016 is $51.7 billion, implying a growth of over 800% in a span of six years."
Key Skills

There are some capabilities that are essential to making a career out of mobile development. Some key skills that are critical for success as a mobile developer include: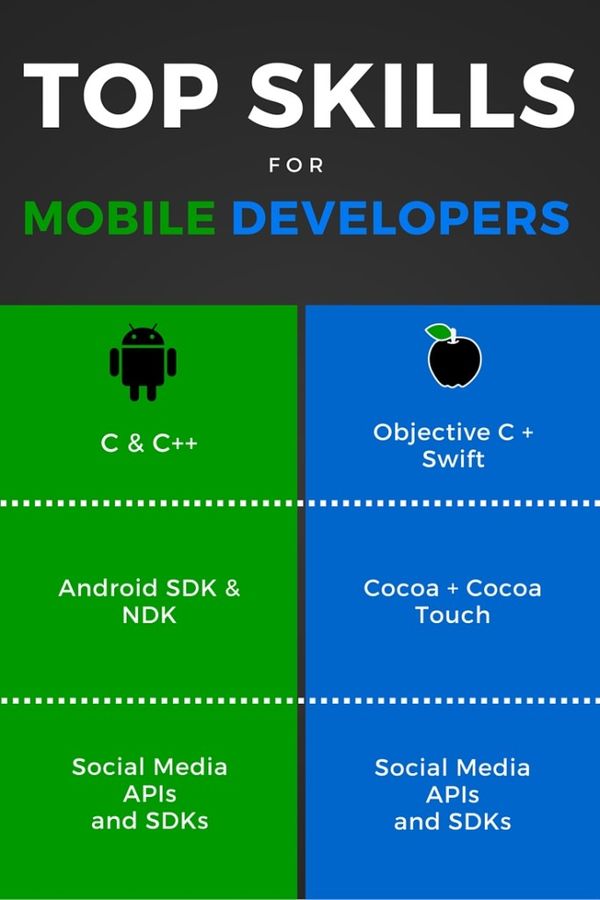 Apple:
Android:
Both:
Social Media APIs (such as twitter)

Learn more about these skill sets, their value, and their purpose in this overview by our friends at CyberCoders.
Skills to Set You Apart
Creativity

Creativity can't be taught, but it can be nurtured and applied to creating new and exciting applications. Being "a creative" is essential to mobile app development, and potential employers will look for examples of your creativity in your portfolio.
Staying Current

Working in the tech industry means taking a vow of "never knowing enough". Technology changes and advances can (and do) happen overnight, so it's up to you to stay up-to-date and current on programming languages, news, and advancements made in your industry. Follow development blogs, set up Google Alerts, and take courses on new programs and languages as they become available.
Passion

Mobile app development is an exciting, up-and-coming industry to be a part of, but the career is only worth while if you truly have a passion for what you're doing. At Zymo, creativity and passion drive both our success and the success of our clients and are the forefront of our mobile development strategies. We believe that passion and creativity set us apart from other App Development Companies, and we are proud to be a part of the tech industry of Wisconsin.