Facts You Might Not Have Known About Green Bay, Wisconsin
Wisconsin pride is something we take pretty darn seriously over here at Zymo Interactive. Wisconsin has a rich and full (and also frigid) history that gives us countless reason to be proud of the state we call home. While the temperatures can be extremely harsh and the air can be so cold you get frostbite within minutes, the people that are found in Wisconsin are anything but harsh and cold. It's not surprising that Wisconsin's most popular city also happens to be the city from which the greatest the actual best like literally the most famous and amazing one of the most popular and renown NFL teams calls home. Yes, the greater Green Bay area is known for many things, from the cheese to the encased meats, from the malt beverages to the paper mills, but we think we've found some less-popular historical aspects of Green Bay Wisconsin that you may not have known.

Did you know...
Green Bay is the Oldest City in Wisconsin


Green Bay was the first European settlement to come to the Wild North. French explorer Nicolet (a commonly known name in the area) founded a small trading post for beaver furs and other local goods in 1634, and a Jesuit mission in 1671 expanded the small trading post into a larger, official outpost. Green Bay also claims the first official post office in Wisconsin.


Learn more about Jean Nicolet's legacy here

Not all heroes wear capes - Green Bay, Wisconsin is the Reason There Aren't Splinters in Your Toilet Paper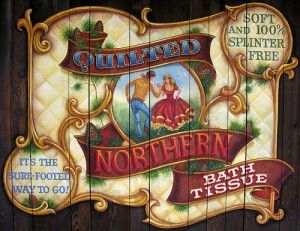 Northern Tissue, a local Green Bay paper company, developed the very first type of toilet paper that eliminated the common little problem of splinters (yep, SPLINTERS in toilet paper was an actual problem for a while). Early toilet paper production methods sometimes left small, sharp pieces of wood in the rolls, which means before the early 1900s, you lived in constant fear of getting an unwelcomed prick in some *ahem* delicate places. Northern Tissue eventually became Quilted Northern, sharing their splinter-less TP with the country and eliminating splinter-in-bum anxiety everywhere. Thanks, Green Bay.

Green Bay is the Smallest City in the Country to Host an NFL team

You knew we couldn't make this list without including the Packers somehow. Green Bay, Wisconsin is commonly known, of course, for the Green Bay Packers, and for their extremely loyal and rowdy fan base. Green Bay has a modest population of ~100,000 people, which makes it the smallest U.S. city to call an NFL team its own. We take our regular visits to Lambeau pretty seriously, too. Green Bay Packer season tickets have been sold out since 1960, and have a renewal rate of 99.6%. This results in very few available tickets available to a waitlist of more than 85,000 people. Bathroom Reader states that if you got on the Packers waiting list today, you'd have to wait a whopping 950 years to receive your tickets. But hey, they make great gifts, so add your name to the waitlist now and see the joy on your 47th generation grandchildren's faces.

Green Bay, Wisconsin Can Get Pretty Spooky


The National Railroad Museum in Green Bay hosts its Terror on the Fox haunted house/train ride each October to spook kids and adults alike. While there are plenty of child-friendly activities during the Halloween season at the National Railroad Museum, such as "Day Out with Thomas the Tank Engine", the haunted train ride has consistently been called one of the best Haunted Experiences in the country. It's apparently pretty realistic, too. So realistic, in fact, that the company that runs Terror on the Fox had actually been using real human skeletons that they had mistaken for fake. We can't decide if we're terrified or impressed (maybe both.)
Skeletons Found at Terror on the Fox - Oct 25th 2016

Ok ok, this one is about Wisconsin as a whole, but that includes Green Bay! According to the respected Ewing Marion Kauffman Foundation, start-up activity in the U.S. overall rose in 2016 for the second year in a row. But among the 25 largest states, Wisconsin came in either last or second-to-last in each of the three categories the foundation evaluated. Entrepreneurship and startup growth rates are so low that only Pittsburg was ranked lower than Wisconsin in one of the three Kauffman categories.


Why should you care?

Many of Wisconsin's best and brightest leave their tundra roots behind for larger cities with more entrepreneurial opportunities and fewer barriers to entry. Wisconsin's unique manufacturing and production industry needs make it ripe for new ideas and improvements, meaning that Wisconsin must encourage entrepreneurs, students, developers, and engineers to stay the state and build up new technologies to benefit the area. Entrepreneurial groups, such as the Zymo-Supported Launch Wisconsin, have emerged in the past few years to encourage Wisconsin's brightest to remain in the area by enabling them with knowledge and investor support.

As a local development company, we've written on the many ways you can become a developer in Wisconsin and filled it with all the supporting info you would need to get your education and begin your development career in Wisconsin. We even have positions open in Zymo's Career Page! And all you Wisconsin students interested in entrepreneurship, keep our state smart and ahead of the game by taking advantage of Wisconsin's relatively low costs of living and business!