Developing mobile apps on native platforms can produce beautiful, fully functional mobile applications for businesses and individual developers alike. However, since each mobile device's operating systems are extremely unique, developing an app to carry over from one device to the next can be a daunting, extremely time-consuming task that usually is not a cost-effective use of the developer's time. Enter the beautiful world of Hybrid Apps - specifically, mobile apps built with Ionic Framework.
What is Ionic?
Ionic is an HTML5 mobile app development framework used to build hybrid mobile apps that can easily navigate from one mobile platform to another. 1
If you're a developer, chances are you know several languages and several ways to develop a product. If you're solely and strictly an app developer, you are probably familiar with developing applications for one device at a time, and you probably have a preference as to which mobile operating system you're developing for. The requirements for the most common mobile operating systems, iOS and Android, are very different from each other.
One of the biggest challenges for app developers is the difference in these requirements. Since the coding for an iOS app does not transfer over to the Android platform (and vice versa), when developing a 'Native' app for more than one platform, the developer has to recode the entire mobile app for each individual platform's requirements. Thinking in terms of development hours, coding an application three times takes considerably more time than coding it just once. This image below from Melt Media is an example of development times for native apps compared to hybrid apps and web mobile apps.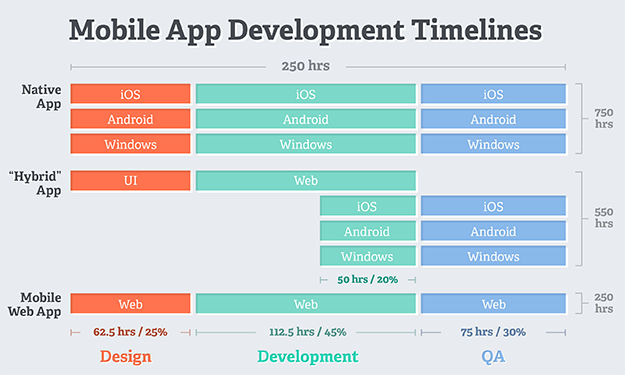 As the name suggests, 'hybrid' apps are those that are developed in a way that allows for cross-platform carryover of the code. And let us tell you, that time saved is extremely valuable to app developers in the development process.
How Ionic Works
So how does this beautiful, time-saving wonder that is work?
Ionic framework, the world's top open-source framework for building cross-platform (hybrid) mobile apps, allows developers to build applications for mobile devices using web development languages like HTML, CSS< JavaScript, and Angular. Ionic framework 's purpose is to allow developers to imitate the native look, feel, and functionality of the individual mobile platform with a wide library of components, including native-looking buttons, tabs, menus, and more.
What's more important than just the appearance of the components of a native app is the actual behavior of said components. The movement of a navigation drop-down or a gesture like swiping, pinching, etc. are critical when the goal is to develop an app that feels like it was made precisely for the mobile device it's being used on.
Why Develop Mobile Apps in Ionic Framework?
Native apps are just downright difficult to develop. Say that three times really fast. But really, for an app to have full functionality on all devices, a developer would have to code it, from scratch, three or more separate times in three or more languages. For Android, a dev must know Android Studio's IDE (Integrated Development Environment). That developer will also need to know Android-specific concepts like intents and activities, and will need to custom create all the User Interfaces using XML syntax. For iOS, that same developer will need to use Xcode on a mac, and will need to write in Objective-C or Swift. If our poor developer wants his/her app available on Windows phones, then that developer will need to rewrite the app from scratch in C# or Visual Basic, on Visual Studio's IDE. See the problem here?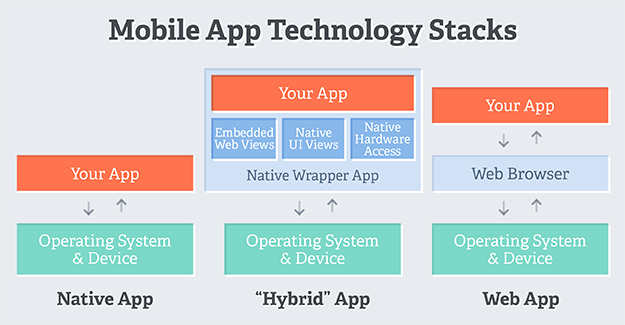 Hybrid applications use a mix of native code and HTML, CSS, Javascript to display the app code as if it were a webpage. Ionic then uses a framework like Apache Cordova to build and run this code as if it were a native mobile app, and something like Angular JS to add beauty and functionality.
Ionic Best Practices
Some best practices when developing hybrid apps includes how to ensure your hybrid apps really 'feel' native, how to implement angular libraries, and some don't-forgets. A few favorites to remember during Ionic framework include:
Enable Native Scrolling on iOS
Put Elbow Grease into Performance

Remember when we mentioned using something like Angular JS for beauty and performance? You will need it. Developers will need to use some extra commands to really make performance great. Here's a great Angular Style guide.

Don't run Cordova Plugins Inside Browser: - It doesn't make sense to build apps for mobile devices only to test them in a web browser. With a little help from the installation of native platforms, and a pinch or two of the right plugins, and developers can interact right with the native device's API, so developers can easily debug their code right on the device.
Are you new to developing mobile apps with Ionic? Here's a complete Ionic guide to getting started! Happy coding!
- Zymo