e-Commerce App Design That Will Make Customers Spend More
Shopping and retail have transformed considerably over the last 3 years, and even more so if you factor in advancements in mobile device capabilities. Mobile shoppers expect their applications to make the process as easy as possible for them, and every snag in the buying flow has the potential to result in a lost sale.
Designing and developing for retail applications is focused predominately on the direct sale or conversion. This means developers will have to design a UX with conversion as the goal in mind and need to make getting from product page to checkout page as easy and straightforward as possible.
Product Details
A full product detail description is hugely important to shoppers. Since they are not able to touch and feel the product in their own hands, clear descriptions can be the deciding factor between a sale and a pass.
Especially in the case of mobile shopping, brands are given a very small screen space to give product details, so developers should make an effort to use clear and short descriptions. Alternatively, if devs prefer or need a longer page, they can develop the page to be clean and succinct while giving users the option to scroll.
Amazon does a great job of laying out their product descriptions and giving their users the info they need to feel good about making a purchasing decision. Take a look:
The long scroll page gives the shopper everything they might need in a clean, easy to navigate way. Rather than clicking/tapping into another area for reviews, then clicking/tapping into another area for product specs, then yet another click/tap to see the images of the product, Amazon places everything on a long scroll page to make it as easy as possible for the shopper.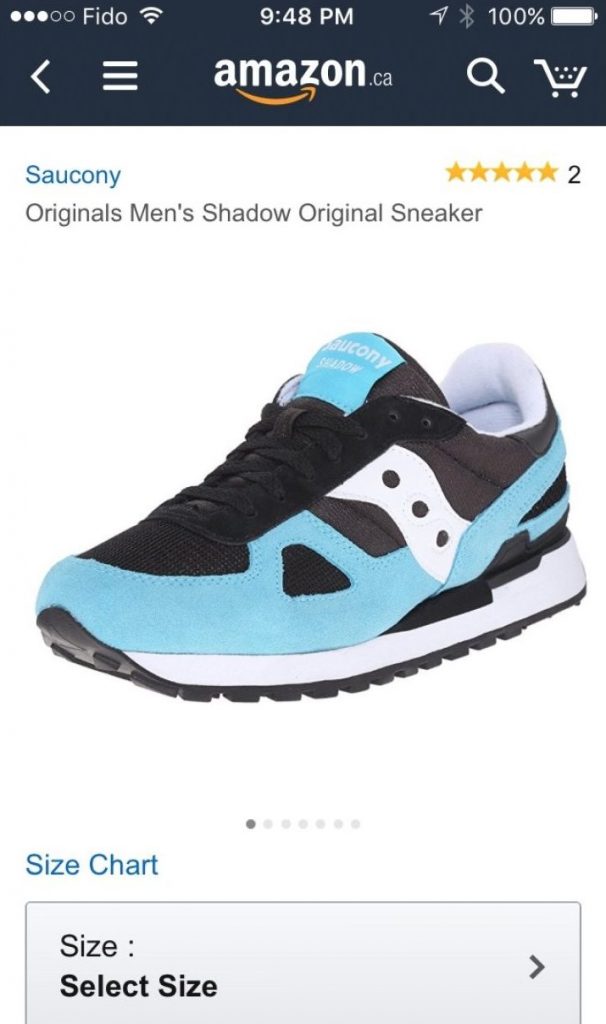 Reviews of product
Obviously, reviews of a product are critical to those who prefer to shop from their devices than in-store. Actual, word-of-mouth referrals are huge, and making reviews prominent and easy to find will help your shoppers feel comfortable checking out with multiple products.
Reviews, in general, are a one-two punch: You've got to make it as easy to read them as it is to leave them. Many shopping brands rely on reviews and even have a reputation in their communities about them. For example, ModCloth is a brand whose community relies heavily on thoughts and opinions of other reviewers, even going as far as allowing reviewers to include their body type and measurements in their reviews of products. This makes their shoppers feel informed about the products and definitely makes them eager to leave reviews of their own to contribute to the community.
Developers should include reviews of products right in the specific product-level interface, and if there are no reviews, developers should set up methods to ask past customers for reviews.
Continue Shopping
Once users add an item to their cart, some retailers attempt to force them to check out or make it difficult to go back to where they were before they added the items to the cart. Instead, confirm to the user that the item has indeed been added to the basket and allow users to continue shopping. This is also a good opportunity to offer product recommendations related to items placed in the basket. If the goal is high cart totals and multiple sales in one shopping experience, this feature will make a big impact.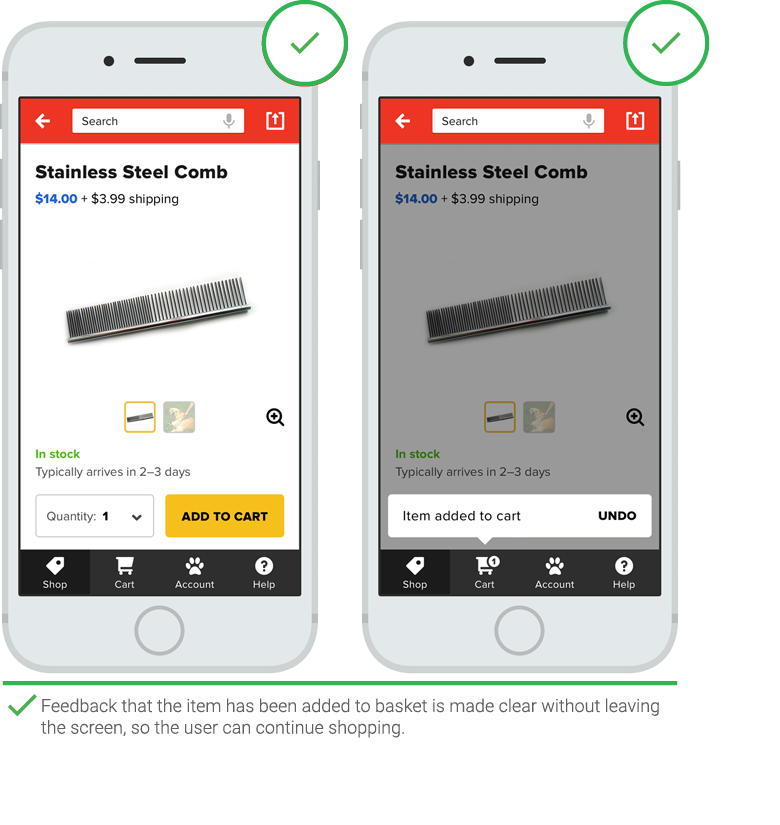 Shopping Cart
Let your users control their carts, for crying out loud! Few things are more annoying than trying to edit a shopping cart on a mobile device from a brand who has not optimized their shopping cart. Even Google itself recommends retail brands allow users to control their baskets at each stage of their buying funnel.
Adding steps to the journey from landing to check out only hurts your chances of actually making the sale. A fast way to frustrate the heck out of your shoppers is to require them to go backward in the buying flow to try to edit or control their shopping carts. The more chances you give your user to abandon that cart, the more often they will abandon the cart.
Developers should give users the option to edit the quantity of product in the cart directly from the cart page, and should give them additional options like "add to wishlist" or "save for later", and of course "remove from cart". It's far better for you to make it easier for your user to change the quantity from "2" to "1" than it is to lose the customer altogether.
Lastly, Stop Forcing Users to Register to Shop
Asking users to register up front before they can view products or make a purchase is a huge barrier to entry and conversion. We get it - you want the user's information so that you can market them in other ways, such as via email, social, etc. While this set up seems like the smartest approach, asking users to register with you before purchasing is annoying and a hassle. Even with auto-saved credit card information on most browsers, asking users to give you all of their info up front leads to high abandon cart rates and low conversion rates. The Neilsen Norman Group gives some great points as to why this is. They've even recommended not requiring registration since 1999. Remember what online shopping was in 1999? Check out the Neilson Norman Group's article explaining why developers should avoid pre-checkout registration here:
Summary: Demanding that users register or log in before they can use an app or see website information has high interaction cost and defies the reciprocity principle
Luckily, retailers have a few options when they wish to avoid asking their shoppers to register before checking out. They are:
Utilize "Log in with Google" or "log in with Facebook"

This is likely the easiest route that keeps everyone happy. You still get your customers' info, and the customer gets to experience the speed and ease of checking out from their mobile devices with a single tap. This is often not ideal, however, since many users use fake or invalid email addresses for Facebook or other social channels. The benefits of allowing your users to log in this way usually outweigh the negatives, but it is something to take into consideration when developing your user's shopping cart experience. Social logins have other benefits, as well, such as presenting you with opportunities to drive sales from your brand's social channels.

Give users a really really good reason to register

Most brands will do something like "get 10% off when you sign up" or something similar to incentivize their shoppers to register.

Give the option of a Guest Checkout

If your users truly don't want to give you any more of their information then they absolutely have to, you can offer a "checkout as guest" option that allows the users to just put their payment information in. Speed this feature up even further by allowing Paypal integration, which means they won't need to give you their shipping and billing addresses, either.
App developers that make it as easy and simple as possible to search, learn, add to cart, and complete a purchase will have the highest conversion rates and are more likely to succeed online. Additional menu bars, long scroll pages, and other factors will make it as easy as possible for your users to navigate from any device, and giving users full control nearly always bode well for retail and e-commerce apps.
Do you have thoughts on developing mobile apps for retail and e-commerce? Give us a shout on our social channels!