Common Mobile App Development Challenges and How You Can Avoid Them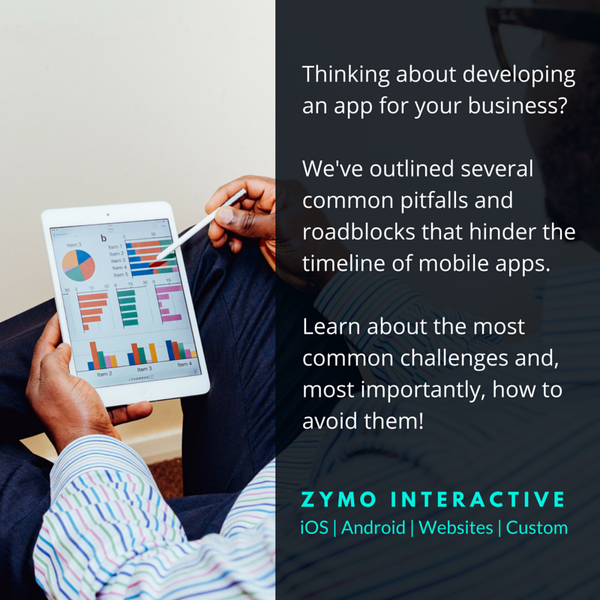 At Zymo, we know that amazing design, a killer development team, or even a strong market need does not guarantee a successful app. There are well over a million apps in the Apple App Store alone, which means it's extremely difficult to stand out in a sea of competition.To drive this point forward, Zymo was recently featured on Green Bay Local News, speaking about how it's harder than ever for app developers to launch a successful app in the app store. Before you send your app off into the scary world of the App Store, learn about some of the common app development challenges.


First things first: Android or iOS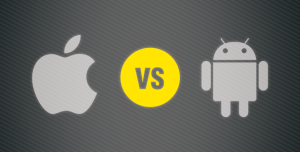 There are a number of reasons to develop for either Android or Apple, depending on your target audience and your goals. Android tends to be more compatible with a large number of APIs. However, there are so many variations of Android devices that it can be difficult to develop apps functional with all sizes and types. iOS development tends to require higher standards of quality assurance, but developers only have to develop for one OS. Which platform is best for you?



Who Is Your Brand?
Find your niche (or create it!)


The more "niche" your app is, the easier it will be for your app to stand out from your competitors in the app store. Finding your niche is easier said than done, however. Defining your brand with just a few words is difficult to do, however. What makes your business different than your competitors? Is there a certain industry or service you provide that other companies just can't? Play up your strengths, brag about yourself, then convey that in your app store listing. Perform some keyword research for highly searched terms to determine what to include, then wrap those words into your app's description and headline.
Who will buy my product?
Market Research



In addition to SWOT analysis and other market research tactics and exercises, identifying the following criteria about your app and audience will help you determine your place in the app store and circumvent app development challenges and issues:

Demographic
who is your app's ideal user? What are they interested in? What do they do for fun? Where do they hang out? What is their income? Figure out who these people are, where they spend their time, and how interested they are in what you have to offer, and you're one step closer to successful app launch. AvaLaunch Media has a great guide in the form of a questionnaire to help you determine your target audience for your app.

Location
does your app require location services? Is it based on local geographical data?

Habits
if you're developing an exercise app, are you targeting those who are already advanced in physical fitness? Or are you targeting the beginner, the slacker, the sleep-is-more-important-than-cardio-because-cardio-is-the-worst?


Overcoming the Corporate Advantage


Enterprise level companies have many things that startups don't have; the most obvious and critical is money. Large companies depend on the algorithms that control app ranking to ensure that smaller companies, no matter how innovative and smart, are pushed to the bottom due to lack of budget. Expendable budget to reach the top of the app store pages is a luxury that most lean startups just can't compete with. So how can you keep up?


Extremely targeted advertising

Certain channels of advertising might benefit you more than others. Success rates for app downloads on Twitter and Facebook are high, and with the proper targeting, these channels can provide a great return on your investment.


ASO

ASO - or app store optimization - is an excellent way to ensure that your app title, description, and keywords are as optimized as possible. Put the time and effort into keyword research, link building, and building and staying active on social, and you will be handsomely rewarded with higher rankings, more downloads, and hopefully more revenue!


Review Pushes

Make sure to include regular review pushes in your app to encourage your loyal users to review your app. You can adjust the settings of review notification pushes to only pop up after a certain amount of uses or when certain checkpoints of the app are reached. Take advantage of these settings - there's nothing worse than an annoying app! Remember, the number of reviews your app has is a critical factor to its visibility in the app store.




Testing Development


The testing of your development project is often the most lengthy task item on the ideation-to-launch timeline. In addition to the standard in-development testing during building, test your app's capabilities on all possible devices, on all different screen sizes, on all pages. Send test conversions through from start to finish, and thoroughly document all errors found. Repeat this process until you're error free.

Integration

Including integration abilities with your app can be key to its success. Integration with social networks like Facebook, Twitter, and Instagram, or with location and check-in platforms such as Yelp and Foursquare (now sort of Swarm, still kind of Foursquare), can provide the User Experience your audience expects. While yes, more integration with third party channels can mean more bugs and requires more updates, including capabilities for other popular apps and sites, can really make a difference to your users.

There you have it, a few of the most common app development challenges faced when developing a mobile app for business. Do you have other tips for us? Connect with us and share your thoughts.