Learn about what Bluetooth Low Energy is and why it's important for mobile and Internet of Things (IoT) technology!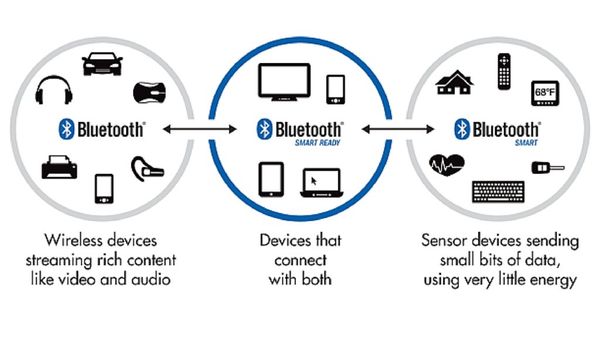 What is Bluetooth Low Energy



Bluetooth Low Energy (often referred to as Bluetooth LE, BLE, or Bluetooth Smart) takes the same Bluetooth technology used in our cars and mobile devices and allows it to constantly run and collect data use very little energy. Bluetooth Smart Low Energy allows devices like toys, wearables, and appliances to function for months at a time without needing more than the standard coin cell batteries. Bluetooth LE is often used for devices that fall into the Internet of Things (IoT) categories, using efficient low energy to power sensors in pedometers, glucose monitors, security devices and features, smartphones and computers, and much more. BLE devices use much less power than standard Bluetooth connections, while still offering close to the same Bluetooth connectivity at about one-half of its range. The folks over at Google claim devices running Bluetooth Low Energy are designed to last "years" without needing a new battery or recharge.

 
Related External Content: Google's Internet of Things platform gets Bluetooth update
 
Why Low Energy Is Important

Due to its inexpensive and energy efficient properties, Bluetooth Low Energy is ideal for IoT devices that rely on the constant collection of data. BLE has given developers the ability to make leaps and bounds when developing for wearable technology and devices that can be controlled remotely or via mobile devices. Developers in the consumer electronic and internet-connected (IoT) machine industries utilize Bluetooth Low Energy technology not only due to its low cost and long battery life, but also due to its ease of deployment into existing appliances and compatibility with current technology. From health monitors to smart watches and fitness trackers, Bluetooth LE can use a dime-sized battery for up to a year to send short-range wireless data.

For developers, this means creating technology that takes advantage of 24-7 data collection, extremely low energy requirements, and wireless communications in an inexpensive, flexible environment.
Definition of "Bluetooth smart" and "Bluetooth smart ready"

definitions from Nordic Semi

1. A "Bluetooth smart" device must have these three specifications: 1. Incorporate Bluetooth v4.0(or higher) with Generic Attribute (GATT)-based architecture; 2 feature a Bluetooth low energy radio, and use the GATT-based architecture to enable particular functionality of the device.



2. A "Bluetooth smart ready" qualified product must meet three similar requirements: Incorporate Bluetooth v4.0 (or higher) with GATT-based architecture; feature a Bluetooth v4.0 radio (BR/EDR + Bluetooth low energy) where both radio modes may be activated, individually or simultaneously, and provide a means by which the end user can choose to update functionality for a Bluetooth Smart device on the Bluetooth Smart Ready device.



3. Creators of Bluetooth smart ready products must provide a way for third parties to create and distribute applications that receive data from Bluetooth smart devices.



4. For the consumer, Bluetooth smart-ready devices make it possible for the user to update the functionality of a Bluetooth smart product. The user can download and install new apps to support any device, rather than upgrade their Bluetooth device after each update.
Developing with low energy and Bluetooth

Bluetooth Low Energy makes it easy for app developers to create powerful and innovative new solutions that can communicate with every Bluetooth-enabled device out there. Considered to be developer-friendly and very low cost, BLE boasts an extremely flexible development architecture. Endless integration possibilities, coupled with powerful flexibility and incredible battery life, gives developers the power to continue to drive the Information Technology and IoT industries forward faster than every before.

Some of the key features of Bluetooth Low Energy include:
Extremely low peak, average, and idle mode power

consumption,

allowing devices to function fully for months at a time using only a standard coin-cell battery
Compatibility Issues

Not all devices are created equal. Bluetooth-capable devices may not be compatible with both Bluetooth Smart and Bluetooth Low Energy. Usually, devices that are compatible with the standard Bluetooth technology are not compatible with Bluetooth Low Energy. Bluetooth 4.0 (the latest in standard Bluetooth technology) describes both BLE and Classic in its formal spec sheet. Bluetooth 4.0 and Bluetooth Low Energy use the same frequency to communicate with devices, but utilize different signaling protocols, meaning they are not inter-operable.
Advancements

Recently, Google launched a new product called "Eddystone", an open format for BLE beacons to communicate directly with a user's device. To better assist developers building apps that incorporate BLE Technology, the tech giant is also debuting and API and making updates to its mobile support services. In addition to Eddystone and the new APIs, Google also plans to offer a method to efficiently manage a fleet of BLE Beacons.

Learn more about Google's Eddystone


What Bluetooth Low Energy advancements are you looking forward to? Share your thoughts on Bluetooth Low Energy on any of our social channels below! We welcome conversations!