App Store Optimization (ASO) Guide for Beginners

Mobile, mobile, mobile. Everywhere we look, we see people on their mobile devices, using apps to shop, search, laugh, cry, socialize, plan, procrastinate (or all at once, ammirite Pinterest?) There are millions of mobile apps available for download, however, only a handful are very well known. Why is that, you ask? 3 words: App Store Optimization. App Store Optimization is the concept of putting the same concepts of SEO and funneling their magic into the app's App Store page, treating the App Store page as a landing page and even building links to it to drive more valuable organic traffic to your app.

You Need App Store Optimization
If you have a website that you want people to know about, you need search engine optimization (SEO). While no two businesses are alike, all brands can benefit from increased visibility online. On the same tangent, if you have an app, you need app store optimization (ASO). You do. Period. Creating an app without optimizing its app store profile is like building a beautiful house and then putting up a giant curtain so no one can see it. You wouldn't spend all that time, energy, creativity, and of course cash on something great just to hide it, would you? No! There are literally millions of apps out there, so if you want others to find, use, and love your app, you need to help them find it!

Read Forbes post on App Store optimization here.
Getting Started: App Title
Optimizing your app in the app store starts at the very beginning with the App Title. Choosing the right name for your app is critical to starting off on the right foot. Perform some keyword research (there are plenty of tools, including Adwords keyword planner, AppTweak, App Store Rankings, Sensor Tower, or SearchMan.) to get a good sense of search volume and competition around your core keywords. For example, a weather app called "iWeather" is going to do a lot better in the app store than "iStorm" for searches that contain the word 'weather'.

Try to get into the mindset of your ideal user. How will the search for your app? What words will they likely use? Try to picture yourself in their shoes. Better yet, try to imagine your parents searching for your app. What keywords would they use? This type of thought exercise can help you use the keywords that are going to have the highest return. Remember, the way that you think users search is often different from the way they actually do, so it's important to think about the most rudimentary keywords and search phrases.


Next: App Description
Just like using high volume keywords in your app name is important to ASO, your app's description is critical to its App Store success. Use your keywords from your Title Research to write a clear and concise description of the app. Read the descriptions of your competitors to get a general idea of what to include. Keep the description clear, use short, concise sentences, and sound excited! Use your best marketing lines to encourage the user that this app is amazing, easy to use, well supported, very helpful, or whatever adjective you want used to describe your app. Descriptions are also extremely important to Apple's strict App Store approval process, as your app could get rejected if its description is not clear, concise, and truthful.


App Screen Shots


Include screenshots of your app in use. Use clear screenshots that highlight the main actions someone would take when using your app. Choose eye-catching, enticing photos that will provide real use to someone who is debating downloading your app. Screenshots help show the user how your app looks while in use and gives your audience a clear expectation of what to expect from you. You've spent what is assumingly a considerable amount of resources on ensuring your app has an excellent User Experience and User Interface, so make sure that your screenshots accurately show your functionalities and designs!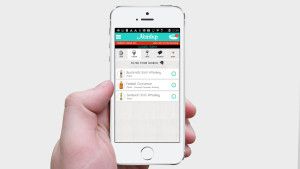 A picture is worth a thousand words! And we have 2 pictures...
Number of App Downloads
The number of times your app has been downloaded actually does have a huge impact on the how the App Store will rank it. Obviously, the more downloads, the more happy customers, which will impact the app's App Store performance. So get your family, friends, neighbors, and your 2-year old cousin that somehow has a smart phone to download!


Reviews of Your App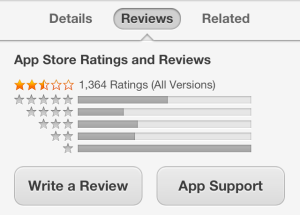 Reviews are arguably the most important part of ASO. Remember when you asked everyone you knew to download your app? Well, ask another favor of them: ask them to review it. Never write or publish false reviews that mislead the user, but if you know you've got an excited fan that loves the app, definitely encourage them to review the app and tell the world why they love it!
Many developers have seen success in gaining reviews by releasing their apps in a beta test or for free for a limited time. Including well-timed pop-ups within your app is another way to encourage your happy users to review your app.


Support Contact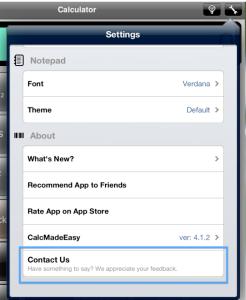 It's critical that you include a working, regularly-checked contact email when you upload to the App Store. If a user is having trouble with your app (it's inevitable really, even the best apps have glitches, errors, or bugs) they need to be able to get in touch with support quickly and easily. The first place a user will go with troubles is support. If support is non-existent, they will turn to a bad review. Reviews are, as previously mentioned, what makes or breaks a decision to download, so it's very important that you do everything you can to avoid receiving bad ones!


So there you have it, a complete beginner's guide to App Store Optimization!