Apps vs. Mobile Websites

Depending on your industry and the services you provide, building a mobile app could be extremely valuable to your site traffic, conversions, and bottom line. We all know how important is it to optimize for the mobile user (Google seriously cannot stress this enough), the question of how best to capture the mobile user always arises - do you build a mobile app or have a mobile responsive website?


Mobile Usage

Current marketing data shows that time spent on mobile devices has now surpassed time spent on desktop computers. Mobile digital time claims 52% of the digital sphere, while desktop is now at 42%. (source)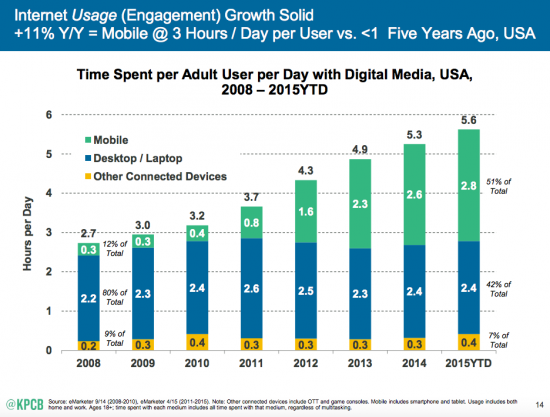 What does that mean for businesses?

It means, simply put, that if you aren't present on your target audience's mobile devices, theres a chance (a 51% chance, actually) that you aren't present at all. Unless you have an extremely specific target audience, you absolutely must be present on mobile devices to continue to be successful.


Mobile Browser Usage vs App Usage

An app analytics company called Flurry released tracking data from over 300,000 mobile apps and discovered that the average time spent on mobile devices in 2 1/2 hours a day. Surprised? We weren't either. What is surprising is the fact that Flurry found that 80% of mobile device time is spent in apps, 20% in browser.




Branding

There are lots of benefits of mobile apps, but one of the most important factors is the branding opportunities the app gives you. When your users open an app, its like they are entering an actual store. You provide the entire experience, from the app's functionality to the look and feel of the company. While you can't control the user's preliminary opinions about your brand, you can control how the user interacts with your brand through the app.


Reaching Different Audiences

Some users prefer apps. Some prefer mobile browsers. It's important to give your mobile users the option of either, capturing both types of mobile users. It also increases the chance of turning a new visitor into a returning visitor, even if the user doesn't download the app or deletes it soon after download. Overall, reaching all types of mobile users is the best way to add new users into your conversion funnel as well as keep them in that funnel once they've entered.


App vs. Mobile Website

Which is more important, an app or a mobile responsive website? Well, the short answer is both. While there are several factors that determine if building a mobile app is right for your business, whatever your mobile strategy decisions, it's important to realize that mobile options are a must. Period. Native apps make sense for e-commerce businesses, social networks, and business models that rely on trust factors (think banking apps), but even with an app in the app store, these companies ALWAYS have a mobile site also.


To summarize:
Do I Need a Website Optimized for User Experience and Conversions? Yes.
Do I Need a Responsive Website Optimized For Mobile? Yes.
Do I Need An App? Maybe.
A great mobile strategy will never include just an app. Give your mobile users options to keep them happy and interacting with your brand!
Do you have an opinion about apps vs. mobile websites? We'd love to hear them! Reach out on any of our social networks below!