Apple Devices vs Android Devices: The Pros and Cons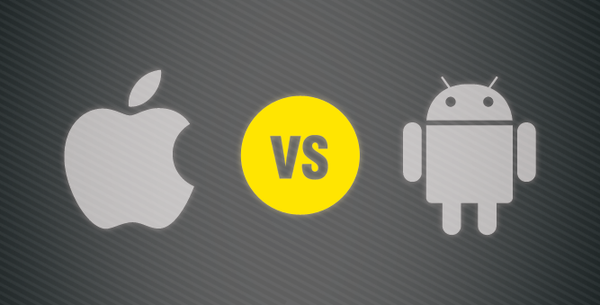 It's the battle of the Generation - should you be using an Android device or an Apple one? In today's mobile world, there are a bagillion mobile options available, but the majority tend to be either iOS/Apple and Android-based (sorry Windows and Blackberry, you're a discussion for another day). So, in the Apple vs Android battle, which is better and why? While it does matter who you are and how you'll use your device, there are some clear winners in several categories. Let's review, shall we?


Apple vs Android: Hardware

What your phone has under the hood determines its functionality and purpose. The core software impacts how you'll use the device, as well as how it will look and feel (your User Experience). Anyone with brand loyalty to Apple iPhones knows that all iPhones look and feel pretty similar to one another, (in fact, sleek and modern design is pretty much Apple's 'thing', whether or not you agree that its 'good' design) and you can easily move from one device to the next without much to learn in terms of new functions. The interfaces, prompts, user input motions (such as swipe left to unlock, pull down to respond or accept, etc) and general functionality available on one iPhone will be extremely similar to any other iPhone, i.e. the iPhone 4 looks pretty darn similar to the iPhone 6. Sure, small adjustments are made to the user's experience and the functionality sometimes changes/improves, but the iPhone experience is generally very similar from model to model.

In the other hand (get it, HAND held mobile devices? Hah we crack ourselves up), Android devices are meant to be altered by the manufacturer you purchase the device from. Sprint's Android interface will be vastly different from Verizon's. Likewise, different devices are available for Android, such as flip screens, pull out keyboards, different sizes, etc, which can alter the entire look and feel of the device. Additionally, any model of Android device can be combined with any Android Operating System, meaning endless combinations are available to Android users.


Apple is known for providing a very minimalist, clean user experience that incorporates thin sans-serif fonts, sleek icons, and lots of white space into all Apple products. Chances are, you would know that you were using an Apple device as soon as you began using it, due to the Apple-y look and feel. Android devices have a vast array of customizations and options available, so there isn't necessarily one set "Android-y" look and feel.
Apple vs Android: Apps


Here it again depends on how you prefer to use the apps on your device and what types of applications matter most to you. Android definitely has a tidier way of organizing your apps, allowing you to keep the most important/most frequently used apps on the home screen and hide the rest in the "app drawer". iPhone allows folders, but these can look squished and messy.

Apple and Android differ in how they allow you to download apps to your device. Apple keeps full control over which apps are available in The App Store and requires app developers to undergo strict quality assurance and testing before the apps become available for download. Unless a device is jailbroken, all apps must be downloaded from the App Store. (This ensures Apple has control in the security of their devices and protects sensitive user information, so it is advisable not to jailbreak your device!)

Android, however, has a number of distribution channels from which you can download applications to your device. Google doesn't require all Android-compatible apps to adhere to strict policies the way that Apple does, which poses both security and usability risks, but as long as you only download from trusted sources like the Android Market, Google Play store, or Amazon App Store, these risks are minimal.

While Apple worries about quality and safety so you don't have to, Android apps are generally safe as long as you're smart about which sources you download from. Also, there are plenty of apps that are only available for one type or the other, since the development and release process is so different for each operating system.


Apple vs Android: Widgets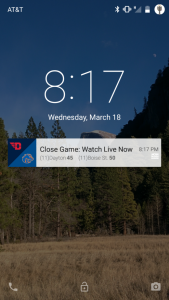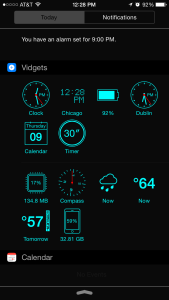 Android has been ahead of the widget game for a long time. Although it's a little annoying to add a widget and choose from several pages of options and sometimes it's just faster to open the app up, widgets can be extremely useful and give a customizable factor to the look and feel of your device. You can add mail labels right to the home screen, add ESPN scores to your screen so you see them first, etc. Notification wise, Android might just win this battle. From a developer standpoint, you can customize push notifications and appearances moreso than on an iOS device.

iPhone users are pretty much unaccustomed to the whole 'widget' concept. While Apple does include a list of widgets in the pull-down screen feature, it's not nearly as customizable as Android's and is often just push notifications prompted by your apps. There are several apps that have taken advantage of this difference, for example, Vidgets is an iOS app that allows you to have customizable widgets on the drop-down screen. So while Android is innately more customizable and just better at widgets, there are options for iPhone users if they prefer to have widgets included in their UX.


Apple vs Android: Maps
Apple Maps is now infamous for being difficult to use, misguided, and sometimes downright inaccurate. Google maps takes the cake here, both in terms of usability and functionality and in terms of accuracy. Google maps is now integrated with local transit systems and traffic information, making commuting a breeze for its users. The silver lining for iOS is that the Google Maps app in available for iPhone, and Apple has even suggested its users use Google Maps instead. That's a helluva recommendation.
Many users have chosen to forgo both Google and Apple maps, opting for apps with crowd-funded, real-time traffic and travel information like Waze, which was purchased by Google in 2016.


Apple vs Android: Camera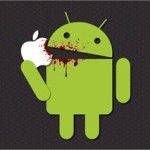 Let's split the camera battle up into two rounds: First, Image Options, then Image Quality.


It took years for iPhone to begin allowing panoramic and slow-motion options, while both options have been available to Android users for a considerable amount of time. Android offers lots of fun things within its camera app to help you customize the images you take on your device. For innate Image Options and customizations, Android presents its users with more options.

For image quality, however, Apple's camera is higher quality and produces sharper, clearer images, especially in the newest models like the X. True to Apple's style, the camera and camera app's sleek, easy-to-use design gives it the upper hand for image quality. There are plenty of apps that can give you the customization that you'd find on an Android device, with the quality Apple promises. But never fear Android users! The most promising image quality can be found in the Galaxy S6, boasting a 20-megapixel camera and plenty of custom software choices from Samsung. Just remember to keep those camera lenses clean!
Apple vs Android: Updates
In the past, Android updates were notorious for fragmentation and slow download speeds. Google solved this issue by moving apps over to the Google Play Store, which allowed it to make changes to its most important apps, such as Gmail and Chrome, without pushing an entire operating system update through.

iOS devices, on the other hand, can download updates and versions whenever they become available. The only downside is that in most cases, Apple tends to hold major changes for its yearly OS update, rather than pushing them out as they are developed (as was the case for the iOS 8.0 update that iPhone users still have horror flashbacks about). The iOS 8.0 update required a ridiculous amount of space, and the internet/Twitter-sphere pretty much blew up about it, as a few of our favorites show below. Mashable even made an entire article devoted to the twitter reaction of the update.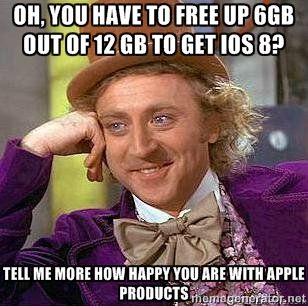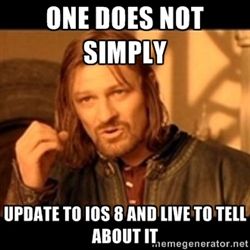 If you're the type that enjoys small tweaks and frequent updates, iOS may not satisfy your need for change.


Who Wins in The Showdown Between Apple vs Android?

iOS Users: for those of you who prefer sleek, minimalistic designs with new gadgets and features, productivity features and apps, as well as a sharp camera and high-quality images, iOS is for you. If you want to make the switch from Android devices to an Apple device, Apple has a specific landing page just for you.


Android Users: for those of you who prefer customizations in look and feel and notification preferences and a little more freedom to download applications from wherever you want, Android is the way to go.


Both Operating Systems are advancing every day so that we as users can sit back, watch the device arms-race, and make our decisions based on how we use the devices in everyday life.
Which Operating System do you prefer? Apple vs Android? Leave comments on our social channels!


Zymo Interactive is a Design-First Development Studio in Green Bay, Wisconsin.